Spotting an opportunity
After the final demise of Pastor Hausmann's efforts at Bethesda [7] in 1881 only one Aboriginal mission was operative in Queensland, run by the Catholic father McNab at Durundur (1877-1905, near Woodford). The Lutherans were just making a new entry into the Queensland field with the establishment of Cape Bedford in the untapped north in 1886, whereas the Aborigines Protection Society was reactivating the mission idea in the settled south by setting up a new reserve at Ipswich (Deebing Creek, or Purga) in 1887.
Bureaucratic governance
Child removals
Bob and Jimmy
'Two of the Mari Yamba mission boys who were later that year (1902)
taken by Father Freiboth to Cape Bedford together with several others'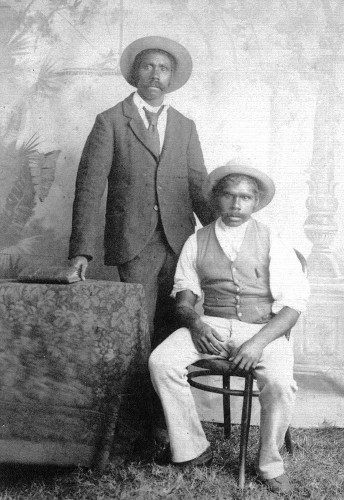 Source: Freiboth file, Lutheran Archives Australia
Just prior to his departure from Mari Yamba Claussen reported that he had several children ready for baptism on the station, to which the committee responded that
The committee clearly felt compelled to separate baptised children from their families and communities. It does not appear as if any children agreed to be baptised under these conditions.
The Neuendettelsau man
The mission was now short of lay helpers. J. Tanzky and his wife from Mackay offered themselves as workers at the handsome salary of £80 for the two in January 1895, but by May the couple left and turned the Mackay congregation against the mission. Hansche also had the help of committee member G. R. Weise as station manager. But he battled against negative official reports and an uncooperative committee.
Mission without missionary
Finally an experienced lay missionary was found in Georg Christoph Freiboth. He arrived in March 1898, and the very next day Hansche and Weise left. This left Freiboth in charge of the mission, but he was not ordained and there was still no missionary in sight. Nor were there any Aboriginal people. In July Freiboth reported that there were now eight adults and a number of children: 'more than before'.
Forced removal
In November 1901 Rev. Schwarz had negotiated with the Mari Yamba mission committee for some funding support to take on the remaining mission residents from Mari Yamba, and with the Queensland government to finance their transport. It took Freiboth a month to comply with all the requirements Schwarz had for him. Freiboth left his family with the Grosskreutz family in Proserpine while he took the 25 remaining mission residents to Cooktown. One cleared out in Bowen. He took some of them to Cape Bedford, stayed there for two weeks and then took the others to Bloomfield, where Poland was winding down that mission. (Freiboth's diary specifies 'half of my natives', but according to the mission committee, seven were taken to Bloomfield and 17 remained at Hope Valley). Schwarz's sister-in-law Miss Allen accompanied him from Cape Bedford to Bloomfield to visit the Polands. They rode to Cooktown to catch the government sailing boat, which took four days by sea. At Bloomfield he was to dismantle the mission house for removal to Cape Bedford. It took another two weeks before they reached Cooktown again. Presumably Schwarz used the government's transport allowance for the removal of Mari Yamba people to have some building materials brought to Hope Valley.
Women of Mari Yamba, 1902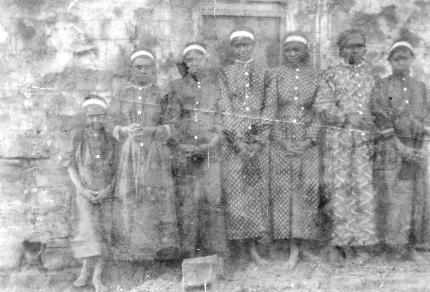 Some of the women who were instructed by Father Freiboth at Mari Yamba,
in front of the church also used as school, shortly before being taken
to Cape Bedford, 1902
Source: Freiboth file, Lutheran Archives Australia