Birth / Death:
born 7 May 1903 Worms
died 23 February 1975, Limburg, age 71
Ministered at Pallottine missions Beagle Bay (1934-37), Rockhole (1937-39) Broome (1939-40) and Lombadina (1947-50, 1952-59).
One of four children, after Volksschule John Herold commenced a commercial apprenticeship (kaufmännische Lehre), but at age 16 he entered the Ehrenbreitstein college in 1920 to become a priest. He continued his studies at Vallendar and entered the novitiate at Olpe on 25 April 1927, where he made his first Profession two years later. He studied philosophy and theology at Olpe and Limburg and was ordained in April 1933. His sister Maria joined the Marienborn convent and became Sister Maria Leocardia.
Fr. John Herold departed for Australia in June 1934 and worked at Beagle Bay until he took over from Fr. Hügel [4] at the ill-fated Rockhole mission from 26 April 1937 to 6 January 1939. Fr. Bleischwitz regrets that Fr. Herold did not continue the mission chronicle commenced by Fr. Hügel.1
In 1939 he became parish priest in Broome. Fr. Herold's diary, kept in English during the war, later in German and shorthand, shows the upsetting period soon after the Golden Jubilee of the Beagle Bay Mission. Only a few entries down from the festivities in June 1940 is:
October 22, 2.30 pm Col. Taylor & Jim Chi message to go to Broome
October 23, 5 am to BBM (Br. Henry left here), in the afternoon to Broome with everyone except Br. Matthias
October 30 Fr. Bened. & Br. John released
November 1st, in the afternoon all released, Fr. Leo & self on parol[e] to stay in Broome
April 2, 1am Fr. Leo, Br. Muller & self by Koolama to Fremantle
During his parole period in Broome he was allowed to visit the mission from 5 January to 27 March 1941. During this excursion he was involved in a car accident in which Br. Beldermann [5] and Fr. Vill sustained severe injuries. These two had to delay their journey south, but Fr. Herold, Fr. Leo Hornung [6] and Br. Paul Müller were sent to the Pallottine House in Kew on 2 April 1941, where they remained until permission was obtained in June to accept placements in various parishes. Fr. Herold was sent to St. Mary's and the Holy Eucharist parish in East Malvern (July 1942 to April 1946) and then St. Kevin's in Ormond (April 1946 to January 1947). From January to April 1947 he was placed in the Catholic orphanage in South Melbourne and ministered to seamen.
In June 1947 he returned to Lombadina to take charge of the mission. "Here he really found his feet, threw himself with relish into the development of the Mission and the continued growth of its unique community spirit."2 Joseph Dugal from Lombadina remembered how Fr. John stood up to the official visitors. Dugal was captain of the mission boat carrying cargo between Broome and Beagle Bay and fetching construction timber with Br. Joseph:
Fr. John Herold pay every Saturday in kind from store. Extra rations. Inspector from government, doctor and policeman, they come for a long time. Other guys from Broome. Fr. John don't like. He sent them off. "You fella come long time, there the gate. Go!" Father Herold had good friends in Melbourne. In Lombadina for many years.3
After the death of his mother in 1949 he drew a small inheritance and in 1950 he visited Europe including Paris (September 1950), Marseilles and his home town Worms, various Pallottine institutions in Germany and finally Rome. He returned via Sicily, Egypt, Ceylon and arrived back in Fremantle in September 1951. He flew to Broome on 11 April, arrived at Beagle Bay the next day and at Lombadina on 13 April 1952.4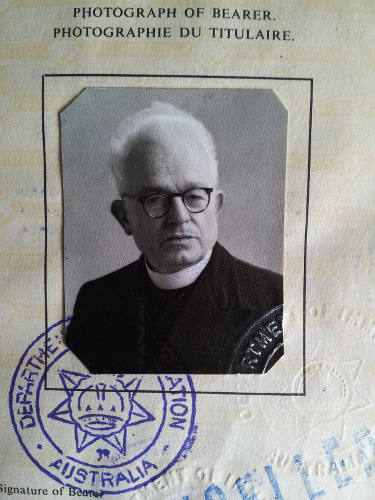 Fr. John Herold's Australian passport photo.
Source: Herold, John, P. Personalakten ZAPP.
In late September 1956 and again in November 1959 he went to Perth for medical checks. As a result of failing health he left the Kimberley in 1959 and arrived in Melbourne in January 1960. A year later he collapsed during mass at Kolping House. He was diagnosed with bone anemia and admitted to hospital a few days later. He was allowed to return to Europe in 1961.5 He visited Le Havre (France) and Belgium, but, having obtained Australian citizenship, was not granted a residence permit in Germany until August 1961. In March 1964 he visited Lebanon, Jordan and Israel.6
It became difficult to place him, and he was allocated a range of light assignments, as resident priest in a convent in Heimerzheim (1964-65), then, after a period in Limburg in an orphanage in Düngenheim (1967-70), and in a retirement home in Bensheim (1970-72). His behavior became so erratic that the residents preferred to attend church in town instead of his services. After a brief period ministering in a retirement home in Kastellaun (1972-73) he returned to Limburg where he was admitted to the infirmary in November 1973. In September 1974 he received mail from a former student, now a mother of six and grandmother of three in Kununurra, "I always pray for you".7
Source: Herold, John, P. Personalakten ZAPP.

This is most likely taken before a sending out
of missionaries. Fr. Anton Wellems travelled
with Fr. Herold in June 1934.
Source: Herold, John, P. Personalakten ZAPP.
Fr. Herold with the Little Sisters of Mary.
This must be at Beagle Bay in the
years 1934 -1937.

Source: Herold, John, P. Personalakten ZAPP.

John Herold with his family before leaving for Australia,
including his sisters Lydia and Maria.

Source: Herold, John, P. Personalakten ZAPP.
2 Pallottine Necrology, MS of the Society of the Catholic Apostolate (Australia) Rossmoyne.
3 Joseph Dugal in Nailon and Huegel This is Your Place, 1982:165.
4 Diary, in Herold, John, P. Personalakten ZAPP.
5 Herold diary in Herold, John, P. Personalakten ZAPP. According to the Pallottine Necrology he returned to Germany in 1964, but his (incomplete) diary clearly has him in Freiburg, Bingen and Heidelberg between March and May of 1961.
6 File note in Herold, John, P. Personalakten ZAPP.
7 File note in Herold, John, P. Personalakten ZAPP.