Related entry - Pallotines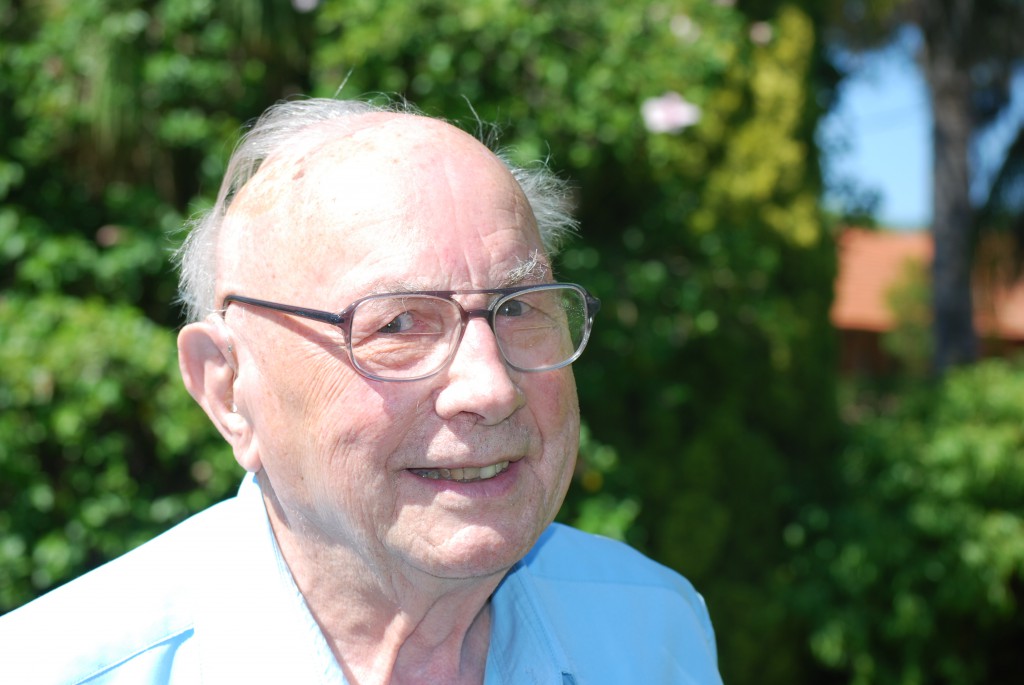 Fr. John Lümmen. Photo by Anthony Barich.
Source: The Record (online) 9 February 2014
John Lümmen was born near the Dutch border as the second of three children of gardener Heinrich and Elisabeth née Peters. He attended seven grades of primary school and then a junior high school in Kalkar directed by a Catholic priest who happened to be familiar with the Pallottine school in Vallendar and who arranged his admission to the boarding school. Lümmen had no intention of becoming an overseas missionary but toyed with the idea of priesthood, without being able to afford a university education. Changes in the national curriculum requirements of the Third Reich required him to shift to the Gymnasium in Kleve to obtain his high school certificate, where he was pressured into membership of the Hitler Youth.1
He was required to serve half a year in a pre-military labour camp and then became a novice at Olpe in November 1939 but was drafted into military service in 1940. He served in occupied Czechoslovakia and once war with Russia was declared at the disastrous siege of Leningrad (i.e. St. Petersburg - September 1941 to January 1943) where, from his company of 120 only twenty men survived, and he lost three toes from frostbite. He received an Iron Cross First Class and after recuperation and a period at cadet school he was promoted to lieutenant in the reserve army and was sent to served in a unit in Italy in 1944 and towards the end of the war in occupied Austria embattled by the Russians. He narrowly escaped capture by the advancing Russian army by crossing the Ems river to surrender to the US army. During his internment he became sacristan and driver to the German army chaplain attending four American prisoner of war camps, and as an aspiring cleric he was among the first to be released.
His mother had died in 1942 and his brother was killed in action in 1945. His widowed sister-in-law, who had remained with her son in the Lümmen family home throughout the war, re-married, so that there was a new man in the family to look after the family business, relieving John from this responsibility.
On his return to Olpe he found that only nine of the 33 novices with whom he commenced his studies had returned. Several Pallottine priests had fallen victim to persecution under the Nazi regime, and the monastery had been confiscated and ransacked. In a period of post-war famine and shortages, the seminary was relocated to Vallendar. Vallendar was at that time becoming imprinted by the youthful Schönstatt movement, with an emphasis on involving young people as lay missionaries, and a return to Vincent Pallotti's adoration of 'Mother Thrice Admirable'. Lümmen made his first Profession and was able to attend the beatification Vincent Pallotti on 22 January 1950 in Rome, where he received a papal blessing and his nomination for the recently established Tardun [2]mission.2
He was ordained on the 9 July 1950 in Limburg, and on 10 March 1951 departed for Australia from Genoa on the Greek ship Cyrenia overloaded with German and Italian migrants. He travelled in the largest ever Pallottine contingent to Australia consisting of twelve staff: the first German lay missionary Lorenz Liedel, three returning staff Fr. John Herold, Fr. Albert Scherzinger and Br. Baptist Birker, four Schönstatt Sisters Anita Spenneberg, Sr. Bonitas, Sr. Magdalen, and Sr. Aigidis, and three fellow Schönstatt priests Fr. John Jobst (who later became Bishop of Broome), Fr. Walter Silvester (who became the Australian Pallottine Regional 1958-1965) and and Fr. Ludwig Münz (who became Limburg Provincial, 1962-1977, and Pallottine General, 1977-1983). In Rome they received an apostolic blessing from Pope Pius XII.3
The missionaries of the 25th expedition to Australia,
'Our missionaries who departed for Australia on 10 March'

Source: Pallottis Werk 1951 Nr. 1:23.
On the seven-hour drive to Tardun together with the four new Schönstatt Sisters in April 1951, Fr. Lümmen's first impressions of Australia were the curious competition of churches in every township, the friendly concern for strangers on the road, and the unlikely appellation of 'farm' for boundless stretches of dry land.4 On his arrival at Tardun under the rectorship of Fr. Francis Girke, Lümmen said Sunday Mass in Latin, and tried to learn English from Fr. Kelly as the resident native speaker, until the latter said he'd prefer to learn German instead, and Fr. Girke encouraged Lümmen to speak 'in your own English'. Lümmen struggled with pounds, shillings and pence, the reversed seasons of the year, and a geography where the Middle East was in west and the Far East to the north. He was incredulous that although he had three drivers' licences (military, German and international - for driving on right side of the road) he still had to obtain an Australian one (for driving in the middle if there was a road).5
With poor English and a strong Dutch (Platt) accent, Lümmen commenced 'my apprenticeship among the Aborigines'.6 He became boys' prefect at Tardun boarding school, having ample experience in leadership, and had to learn Australian Rules and the significance of Melbourne Cup. He also participated in the building up of the mission infrastructure with the addition of a cricket pitch, playground, and finally a wading pool because 'We did not ask to use the Christian Brothers pool because our children were coloured', but the Tardun children were allowed to use their water tank in the paddock.7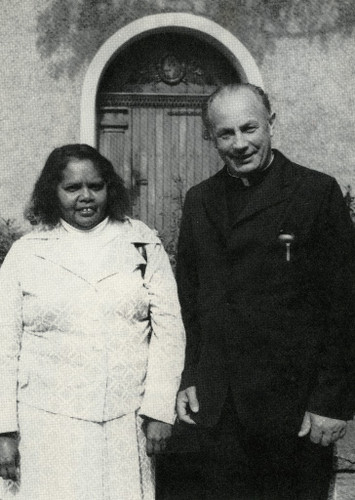 Fr John Luemmen's longtime collaborator, Edith Little,
pictured with Fr Luemmen in 1975, at Limburg, Germany.
Edith Little was 17 when she left Tardun and became
housekeeper at the Pallottine's training centre
at Rossmoyne, WA.
Source: The Record (online), 9 February 2014
Among the forty boys at Tardun was Harold Little, who with his sister Edith was among the first children to board at Tardun and to be baptised there.
In December 1955 Fr. Lümmen was called to the new Pallottine training centre in Riverton (Rossmoyne) designed to offer opportunities for secondary schooling and trade apprenticeship for mission boys and initially directed by Fr. Anton Omasmeier. Its housekeeper was 17-year old Edith Little, who had been working in the Tardun kitchen. The Rossmoyne centre opened with six boys, including Harold Little, who was first sent to a state school (a mistake on Lümmen's part, who was unfamiliar with the salient Australian distinctions between State, Catholic and Independent schools) to obtain a Junior Certificate to Grade 10, and then apprenticed as a joiner. A letter of appreciation from the mother of these two was conveyed to the Minister of Native Welfare and Police: "Father, I am so proud of Harold and Edith and I am really thankful for what you have done for my children". 8
Using their first successes as advertising, including the first two boys from Broome, Joseph Roe and Philip Albert, more applications for places at Rossmoyne came and extensions were built with funding from Misereor, the Lotteries Commission and the Native Welfare Department.9 Local institutions also offered assistance in kind: free biscuits from the Mills and Wares Biscuit Factory in Fremantle, free onions and potatoes from the West Australian Potato Board, fruit from local orchard growers. Meat was supplied in the form of live sheep from Tardun, milk and butter from three cows, eggs from 50 hens, and vegetables from the garden.10
In 1961 the Rossmoyne training centre began to accept girls into its new Villa Maria Lodge, and had to find local schools willing to accept coloured girls. The accommodation was in self-contained houses with house parents, mostly lay missionaries, with an 80% Aboriginal staff.11
One of the first girls to arrive was Cecilia Nannup, who in 1966 married Harold Little, who became a footballer with the Perth Demons in the Western Australian Football League. He purchased a motor bike and later a car with a bank loan, but when he wanted to take out life insurance his application was declined. Fr. Lümmen, still with only a vague idea about how Australian society worked, fronted up in the insurance office, called it racial discrimination and threatened to go to the Press. Little's insurance application was accepted.12
Among the students at Rossmoyne were Peter Yu (later chair of the Kimberley Land Council), Jessie May née Noel (later director of an Aboriginal medical organisation), Kaye McGuiness (later lawyer at the Bar), Stephen Albert, aka Baamba (later Aboriginal educator and actor), the Pigram brothers (band), and Jimmy Chi, who became a Broome musician and playwright, best known for his award-winning 1990 musical Bran Nue Dae, an adaptation of which was released as a movie in 2010. One of its central characters, German-accented Father Benedictus, who famously blesses the boys with Cherry Ripe bars, but also doles out physical punishment, was reputedly loosely modelled on Chi's experience of the Pallottines with Fr. Lümmen, who was invited as guest of honour at the premiere of the musical. Lümmen recalled Stephen Albert, one of the actors in the play as saying afterwards 'Pop, if we had not learnt discipline at Rossmoyne by you, we would never have been able to go through the training of this play."13
Lümmen mused that "I was somehow seen as authoritarian, but how could it be different when I had been a German officer, trained in a German army."14
Fr. Eugene San, who became Lümmen's assistant priest at Riverton, "found Fr. John to be a tough taskmaster"15 and Cecilia Little also described him as strict: "although Fr. John was strict, he was more a mentor to the boys and girls, and many maintained their friendship with him throughout his life".16
Lümmen holidayed in Germany in 1961 and 1969, and in 1975 he also arranged for Edith Little to visit various Pallottine houses in Germany, and his family at Appledorn. Edith, who had always supported Lümmen in his views on assimilation, had lobbied for his return from Germany in 1969, and had gained a leadership role among the Rossmoyne community, died shortly afterwards in Perth hospital of a pulmonary embolism.17 About 450 people attended her funeral on 8 December 1975, including Mum Shirl from Redfern, department of native welfare officers and representatives of the Catholic Church in Perth. Lümmen considered her "the co-founder, inspirator, soul and backbone of the Pallottine Centre .... let us work and pray that Edith Little may become the first canonised Aboriginal saint in heaven."18 Lümmen's autobiography published in 1999 was dedicated "to the memory of Edith Little and ex Students of the Pallottine Centre Rossmoyne".19 A building at the Rossmoyne Centre now bears her name.
Lümmen found it difficult to replace Edith Little and grew weary of his responsibilities. In the lead-up to his 60th birthday Lümmen received the British Empire Medal (Civil Division) in September 1979 "for service to Aboriginal and migrant welfare". Shortly afterwards, with 25 years of service at Rossmoyne, he took a final sabbatical, during which he felt like "a wounded soldier coming out of the battlefield". He resigned in 1980 and was replaced by three men.20
Next to his duties at Rossmoyne Lümmen had also acted as part-time parish priest in Riverton (1956 - 1963), assisted by Fr. San and others, a fairly new parish in which he ministered to recent German-speaking migrants from Lithuania, Poland, Hungary, Switzerland, Austria and Germany. He initiated an extension of the school and a new kindergarten. In 1981 he was appointed as full-time priest of this parish, which now also included Asian and Indian migrants. Lümmen built the Orana primary school in Willetton and continued in this role until he had a heart attack in the Advent period of 1994. He then
stepped down as parish priest but continued to celebrate mass and visit parishioners, even while he was wheelchair bound in the last few months of his life. In 2010, the year of the 60th anniversary of his ordination, another honour came on Australia Day in the form of an 'Active Citizenship Award' from the Canning City Council for his service to Aboriginal education and welfare, primary school education, and work with the aged. An even better expression of his achievements was the arrival of a large contingent of his former students from Broome for his funeral in January 2014.