Birth / Death:
born 14 May 1837, Robenhausen, Switzerland
died 10 August 1895 , age 59
One of four Moravian Brothers sent to Australia to start an inland mission at Kopperamanna.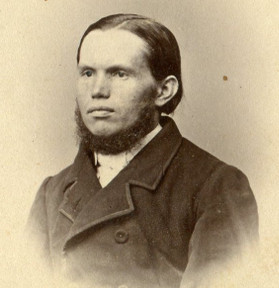 Henrich Walder
Heinrich Walder was a teacher at Königsfeld near Sank Georgen in the Black Forest until at age 26 he answered the call to enter missionary service specifically to establish a Moravian mission near Coopers Creek in inland Australia. Together with three other brethren who had answered the call, he was admitted to the Moravian Akoluthie in January 1864 and ordained six months later at Herrnhut as Diaconus (31 July 1864). Teacher Walder and the tailor Wilhelm Meissel [1] and shoemaker Julius Kühn [2], acquired basic surgery skills.1
All four left London on 17 August 1864 and arrived in Melbourne on 28 November 1864. On their arrival it was determined that the drought made it impossible to start an inland journey. The four brethren were sent to the two Moravian missions Ebenezer [3] and Ramahyuck [4] to await the call to travel inland. Walder and Meissel were allocated to Ebenezer mission where they met the Indigenous convert Boney (Daniel) who expressed interest in accompanying the pioneer group to Coopers Creek.
After half a year at Ebenezer mission Walder arrived at the Moravian community of Bethel in South Australia (31 July 1865) where he became an assistant until in late July/August 18662 three of the Brothers met up in Bethel to commence their inland journey while Kühn remained at Port Lincoln. Boney succumbed to disease before the journey got underway.
After an arduous journey Walder, Meissel, and Kramer arrived at Coopers Creek (31 January 1867) just days before a Lutheran missionary party, also from the Barossa Valley, reached the area. They faced a hostile reception from the Dieri people at Coopers Creek and struggled at Lake Kopperamanna until leaving the field to the Lutherans in mid-1868 without achieving any conversions (see Killalpaninna [5]).
The Kopperamanna mission was officially given up in December 1868, but the three Moravian Brothers appear to have returned to the south sooner than that. Br. Kramer, for example, returned to Ramahyuck in May 1868, whereas Meissel is supposed to have commenced his return journey from the inland in December 1868. Presumably Walder also returned to Bethel and spent between 6 and 12 months in the south before departing for Jamaica on 19 July 1869 to serve in the Moravian West Indies Mission. He retired in 1873 at around age 36 and died at age 59 in August 1895.3
1 Jensz, Felicity Moravian Missionaries in the British Colony of Victoria, Australia, 1848-1908. Leiden: Brill, 2010: 159-162, 246.
2 Kramer left Ebenezer in August 1866 according to the 1866 Report Annual Report of the Central Board for Aborigines, B332/0 1861 – 1924 National Archives Melbourne, Victorian Archives Centre.
3 Weiss, Peter, Short General and Statistical History of the Australian Lutheran Church, Lutheran Archives Australia, 2001-2007.