The correct way
Hörlein and Bogner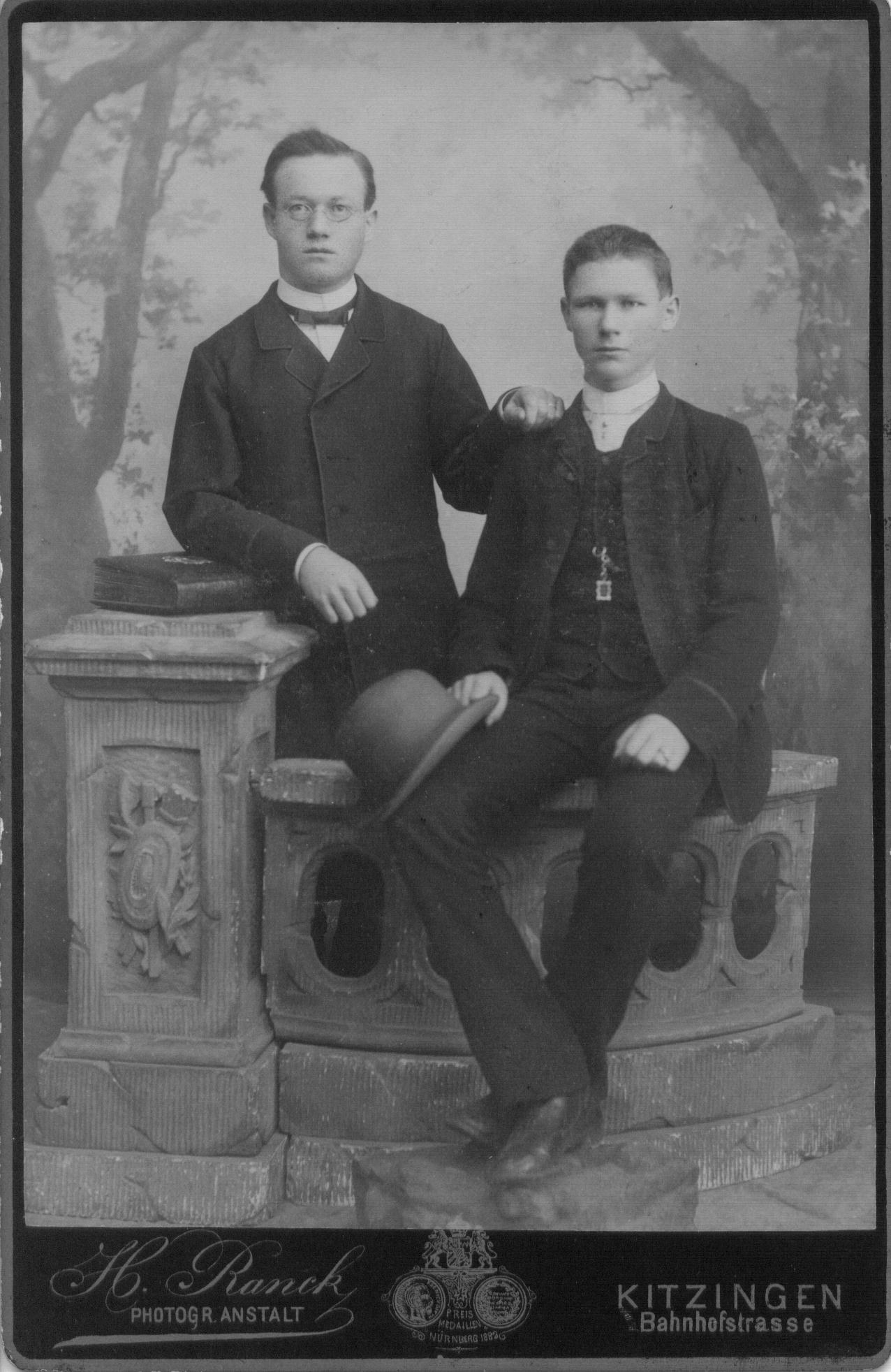 Johann Sebastian Hörlein at age 20, graduating with Johann Mathias Bogner
from the Neuendettelsau seminary.
Photographed at Kitzingen, 17 November 1890.
Source: Lutheran Archives Australia.
Shifting the house was to occupy several months, and was interrupted by the wet season, much to Hörlein's annoyance. Soon after it had been moved the Koch family left the mission.
Hörlein also engaged a teacher because 'a missionary should not spend his valuable time teaching the ABC'. The only available candidate was former seaman Curt Schulz from nearby Ayton about whom Hörlein had some considerable reservations. Worst of all, Schulz was engaged to an English girl, whereas 'our station is supposed to be German Lutheran', and should not be stained with an English patina. Still, Schulz would do as a casual staff member.
When Hörlein arrived at Bloomfield the mission was in a financially sound position. Within half a year of his arrival, Steicke resigned because he had been asked to work an eight-hour day, Koch withdrew and took up a private selection with his wife's family, and the timber-getters were making approaches to government to have the reserve rescinded.
The trouble with women
Steicke had been caught up in 'black velvet'. It is impossible to ascertain whether this might mean a steady relationship with an Aboriginal woman, or various sexual encounters with Aboriginal mission girls.
Meyer's fate had been sealed, he was to be withdrawn. The only open question now was what should happen with the native Evangelist Johannes Pingilina who had come up from Bethesda with the Meyers. Pingilina had lost his wife and was pining for home. Hörlein felt that Pingilina was too useful to be let go. He should be allowed a six-month spell in South Australia, but be ordered back to Bloomfield where he was useful.
Because of a seven-year gap in the correspondence it is difficult to ascertain what happened next. Meyer finally left in 1892, and it seems that Pingilina was not allowed to go back home with him. Hörlein's friend Bogner did arrive in December 1891. He was ten years older than Hörlein, and being the assistant missionary must have changed their earlier friendship. Bogner stayed for less than three years. The South Australian Kirchen- und Missionsblatt kept a seven-year silence, and after a first guarded report from Bogner followed soon after by a more colourful one from Hörlein, the Neuendettelsau mission newsletter Kirchliche Mitteilungen did not carry any news from Bloomfield for five years.
Hörlein reported that both he and Bogner had 'little daughters'. Timbora had been taken in by Meyer and adopted by Hörlein, and Tokopati, had become Bogner's daughter. Both of them could speak a little German, and Tomi (presumably Tommy) whom Meyer had brought from Cooktown, worked well enough to save a full staff member. He wanted Hörlein to get him a wife from Cape Bedford, but the missionaries there were not agreeable.
It seems that everyone at the mission was pining for a wife. Bogner married in 1893, but his wife suffered from malaria and they left Bloomfield in 1894 to work in the drier climate of Hermannsburg mission and at Bethesda.
Christian Mack, who replaced Bogner in 1895, was introduced to a woman on his arrival by Pastor Döhler at Yorketown. He only saw her for fifteen minutes, and kept asking about the 'results'.
The wedding of Rev. Sebastian Hörlein and Anna (nee Heinrich), at Yorketown, 1896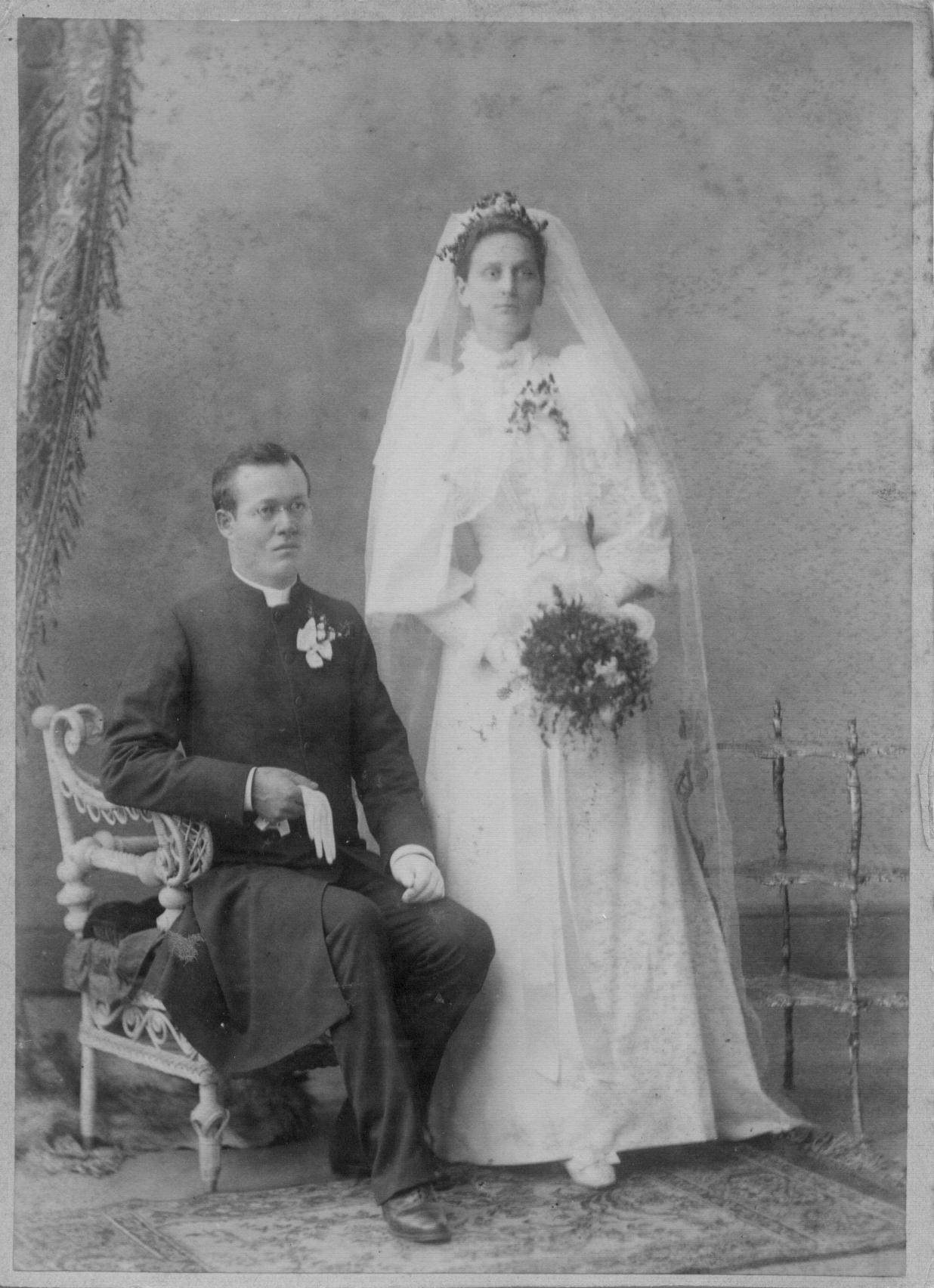 Source: Lutheran Archives Australia
Agonising end
He was heartbroken. He wanted to leave. For the next few months he wrote long and agonizing letters describing his descent into illness and depression. His symptoms ranged from aches in his limbs and back, to loss of voice, blurred vision, nervous exhaustion, insomnia, loss of appetite and crying fits. He blamed himself for having taken his wife to such a place and to have caused her death.
The mission was disintegrating from staff discord and a public scandal caused by Steicke. The Swiss gardener Fritz left for Cooktown, Steicke took up work on the tin fields, and committee cast around for options to withdraw from Bloomfield. Mack was recalled in mid-1900, leaving Hörlein behind, broken in spirit and body. 'I never thought I'd be the last German in this place.' He started to sell everything that could be sold, including the bee hives, the chickens and the goats, so that his sources and supplies of food kept dwindling. In October he commenced taking opium-based pain relief, and at Christmas he wrote 'I am still here, is this meant to be a punishment or a test?' In March 1901 he was running seriously low on food and found he had 'wasted a whole year of my life'. At Easter he was still at Bloomfield, the tin miners were starting to come by to say farewell. By mid-April the flour had run out, the mission girls were living on coconuts for the last three days, and Hörlein was living on pumpkins. This is the last letter in the collection. Hörlein had spent ten years at Bloomfield.
In September 1901 Hörlein was in Melbourne with his son, and in January 1902 he became pastor at Plainland near Laidley, where he died only six years later, at age 37 (30 August 1908).
There are a number of unfathomable twists in Hörlein's story. Why did he place his baby son in care in Cairns, so far away? Why did he start selling off food-producing stock, like chickens and goats when his departure had not yet been set? Why did he have to stay so long at Bloomfield?