James Günther was assigned to the CMS mission near Mudgee which showed up deep resentments between German and English-speaking Protestants. He trained as a missionary at Basel and London, and remained for six years at the Wellington Valley mission. In 1843 the New South Wales government withdrew all support for its missions, both of which were staffed by Germans (Zion Hill and Wellington Valley).
Günther was born on 12 May 1806 in the village of Oberschwandorf near Nagold (Württemberg). He trained at
Basel
and then attended the Church Mission Society (CMS) college in 1833 and was ordained into the Anglican ministry in London. At this time Basel was working closely with the CMS in London.
Jakob Wilhelm Günther, 1832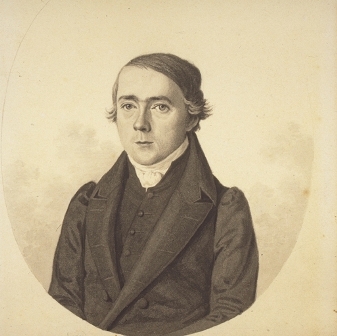 Source: Basel Mission QS30.001.009.01
He arrived at the CMS mission in Wellington Valley in August 1837 with his wife Lydia nee Paris, and took over the mission's superintendence from Rev. William Watson in 1840, until the mission was disbanded in 1843.
During his six years as a missionary he prepared a Wiradjuri grammar which was published in 1892 by J. Fraser, and he also conducted a larger language work which has been lost
.
[1]
Günther entertained a voluminous correspondence with Basel, including 34 letters, and therefore often appeared with short news in the
Basler Missionsmagazin
and the
Christlicher
Heidenbote.
The activity reports of the Wellington Valley were submitted in English to the London Missionary Society (LMS), and extracts appeared in translated form in the mission magazines.
[2]
By 1843, when the New South Wales government withdrew funding from all its missions, Günther was already discouraged. There had been no baptisms and little progress in 'civilising'. Günther's journal records a significant interaction with an indigenous man called Cochrane, whom he considered the only promising convert to Christianity. Attempting to address the traditional power structures which interfered with the imposition of mission authority, he asked Cochrane 'Why do you obey the old men?", to which Cochrane responded: 'Why do you obey the governor?"
[3]
The Anglo-German relationship at this mission was never a happy one. Watson and Handt had been operating almost independently of each other until Handt requested a transferand was replaced by Günther. Watson expressed resentment of the appointment of another German:
The Society may prefer German Lutherans to English Episcopalians - and all their labourers may eventually be from Basle. Yet while other missionary societies can find a sufficiency of English candidates, it argues something faulty in the C.M.S. that more than half its labourers are foreigners who consider it hard that they must submit to Episcopal ordination
[4].
This comment presumably referred to an incident in 1837 where four Basel candidates, including Eipper, refused to swear obedience to a bishop in order to be ordained into the Anglican Church. When Watson was dismissed from Wellington Valley and set up a private mission nearby, Bishop Broughton was more impressed with the Apsley mission than with Wellington Valley under Günther. As a matter of fact, when the NSW government withdrew funding from 'all missions' in 1843, it was supporting only two, both of which were staffed by Germans. The bishop subsequently designated a wage for Watson to conduct his mission, and replaced
Handt
at Moreton Bay with an English pastor.
In a review of all missions in Australia, Harris expresses criticism of Günther, whose standards were 'cruelly high':
Guenther was among the first of a long line of missionaries in Australia who failed to nurture and recognise the Christian faith of their own converts. He so entangled the gospel with European culture that he was unable or unwilling to see spiritual development, demanding to see total, absolute changes of lifestyle as evidence of conversion, which meant denying virtually all Aboriginality and becoming European
.
[5]
Having been ordained in the Anglican Church stood Günther in good stead when the Wellington Valley mission was disbanded. Günther became chaplain for the convicts, and later archdeacon at Mudgee where he died on 20 December 1879, age 73
.
[6]