Education and arrival in Australia
Rev. J. D. Lang, 1841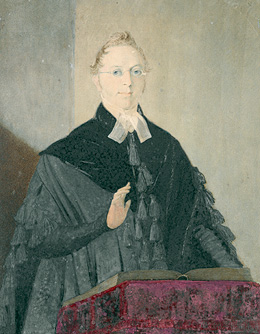 Source: State Library of New South Wales
Bringing the Scots' Church to Sydney
Lang was keenly interested in recruiting suitable Protestant migrants to potential new areas of settlement to stem the tide of expanding Catholicism, and he was mindful that both new settler communities and the Aborigines whom they displaced required pastoral care. In 1824 a penal settlement was established at Moreton Bay. Lang's interest in a mission to the Aborigines of Moreton Bay began around 1831.
In that year Lang launched an attack on the lack of qualifications among missionaries in Australia. It was like
His vituperation was generally understood as an attack on Thelkeld, and Lang was convicted of libel. He soon started to recruit German missionaries (whose training equally had been fast-tracked for heathen mission), and later established an Australian College at which a number of them obtained their high school certificates. This suggests that his criticism was not so much directed at the training of the missionaries, but at their denominational background.
Recruiting German missionaries
Fundraising
Continued interest in Zion Hill
In 1850 Lang commenced the Australian College, for which he recruited William Ridley (1819-1878) from Essex. Ridley had intended to work as a missionary to Aborigines, and was ordained by Lang, and married Isabella (nee Cotter). He later began an itinerant ministry in New England, which he extended to Moreton Bay in1855, attempting to interest Haussmann in the scheme. Ridley undertook linguistic work on Kamilaroi and Turrbal, and later became a journalist.
Lang's career