Eipper was one of the two pastors in the first mission in Queensland, and one of the first to leave after seven years. He learned the Turrbal language, travelled extensively in the mission area and wrote some detailed reports of his observations. Unlike the other staff at Zion Hill, he was trained at Basel.
Christopher Eipper was born on 20 August 1813 in Esslingen on the Neckar River (Stuttgart, Germany), and a secretary by training. Because the Protestants in Wuerttemberg were involved with the Basel Mission, he attended that training seminary from 1832 to 1836. In March 1837 he turned to J.D. Lang to find a posting to Australia. In London, in preparation for the posting to Moreton Bay, he married Harriet Gyles, daughter of a missionary farmer in Tahiti, on 15 June 1837, and was finally ordained by Steinkopf (see Basel Mission [5]), on 27 June 1837, after refusing, together with three other Basel candidates, to take a vow of obedience to a bishop. On their arrival in Sydney they joined the Presbyterian synod of New South Wales[1]Like Schmidt, therefore, he had a supra-confessional countenance, willing to work with a range of protestant denominations.
Christopher Eipper, 1836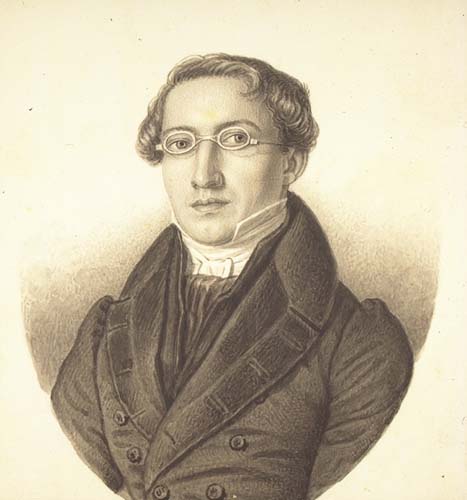 Source: Basel Mission
QS-30.001.0127.01
Eipper led the spearhead group of mission staff to Moreton Bay and helped to locate a suitable area of land to establish the Zion Hill [6] mission. He conducted classes and learnt the local dialect, assisted by language work already done by Rev. Handt. [7] He also actively participated in locating an alternative site once the Moreton Bay area had been thrown open for free settlement, and therefore travelled quite extensively in the area. [2] His extant records, apart from two letters to Lang, include an 1841 'Statement of the Origin, Condition and Prospects of the German Mission to the Aborigines at Moreton Bay' the 'Journal of the Brethren Eipper and Hartenstein, who resided among the natives on the Pine River from Nov 4-11 1842', and 'Observations made on a journey to the larger Bunya Country along the Wide Bay River' in 1843.
After funding for Zion Hill was withdrawn in late 1843 Eipper gave up missionary work in 1844 in favour of working in Presbyterian communities in New South Wales, at Braidwood and Maitland. At age 38 he withdrew from ministry and became a teacher at Muswellbrook and Aberdeen, taking a similar path to Schmidt, who also eventually gave up religious work in favour of teaching. He died at Braidwood on 4 September 1894 at age 81. One of his grandsons, Rev. Albert James, returned to the fold to become a Presbyterian missionary at Broome and Thursday Island.
[1]
Basel Mission archives, Personenfaszikel Nr. BV 159; and Theile, Otto,
One hundred Years of the Lutheran Church in Queensland,
LutheranChurch of Australia, Milton, 1938, p.5.
[2]
Gunson, N. 'Eipper, Christopher (1813-1894)' ,
Australian Dictionary of Biography
, 2006, retrieved: October 13, 2008, from
http://www.adb.online.anu.edu.au/biogs
; Theile, Otto,
One hundred Years of the Lutheran Church in Queensland,
Lutheran Church of Australia, Milton, 1938, p5; and and Weiss, Peter, Short General and Statistical History of the Australian Lutheran Church, Lutheran Archives Australia, 2001-2007.