Europe to Africa
Johann Christian Simon Handt, 1827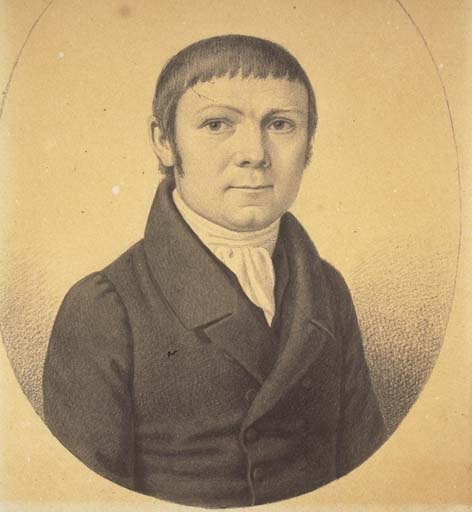 Source: Basel Mission QS-30.001.0054.01
Handt was ordained at Auggen in May 1827 and posted to Liberia (Sierra Leone, West Africa) in May 1827, departing from Monrovia in December 1827. During his three years in Liberia some tension arose with one of the Brothers posted with him, and the mission was plagued by illness. Handt took it upon himself to move into the African interior and set up at Cape Mount, but periods of illness prompted a request for a different posting. When the CMS (Church Mission Society) did not respond he travelled to England in October 1830, much to the embarrassment of the Basel Mission Society, which now felt obliged to reimburse the CMS for his passage to Africa.
Sydney
Handt continued to hope that he could work together with Brother Matthews from the CMS College at Islington, but Matthews was sent to New Zealand as originally intended. Handt now awaited the arrival of Brother Watson, whose departure had been delayed for nine months due to difficulties with his ordination. During this time Handt ministered to convicts and asylum inmates around Sydney. Handt was still not married, and by April 1832 wrote despairingly about the poor prospects in such a convict colony.
The Rev. William Watson and his wife Anne (nee Oliver) finally arrived in May 1832, and in July Handt married 'Miss Crook', daughter of a missionary, who had been in the South Pacific since age 11. 'I hope she will be a useful addition to our mission', wrote Handt, omitting to mention her name, Mary.
To Wellington Valley
Handt trekked to Wellington Valley and noticed the effects of the 1830 – 1831 smallpox epidemic which had ravaged the Aboriginal people of New South Wales. Along the journey he endeavoured to recruit Aborigines for the new mission. Some, from Marsden's station at Molong accompanied them, but elsewhere white owners had warned their Aboriginal workforce that the missionaries were going to take their children away to jail.
They made slow progress on the trek and were frequently invited to visit stations along the way, including one belonging to Rev. William Lane. The major difficulty they encountered was the loss of bullocks. The convicts and Aborigines assigned to accompany the missionaries seemed to lose track of the bullocks or horses almost every night, so that the mornings were spent looking for them, instead of setting off. The bullocks were generally found on a Saturday afternoon, but of course the missionaries would not countenance travelling on a Sunday. 'There never has been such a year as this for losing bullocks', observed one of the crew. The climate also proved difficult. In Sydney Handt had been enthusiastic about the mild climate, but as they moved into the interior they were to labour under temperature as fierce as 42° in the shade.
Frontier society and Aboriginal expectations
Handt's arrival at Wellington Valley in October 1832 coincided with the withdrawal of the government from the convict farm there. Consequently, they occupied some disused government buildings, including a commodious 'government house' at the top of the hill. They were guarded by a military detachment, and in turn they had to supply the military staff with food.
Aboriginal people in the area already had various interactions with white settlers, convict workers and military, and were able to express themselves in frontier English. This was sometimes misunderstood by the newcomers to be Aboriginal, such as when Handt asked one of the Aborigines what he thought had made him sick, and understood the 'wong-ding' in reply to be a reference to the devil.
The missionaries' journals paint an abysmal, gut-wrenching, image of the frontier society. Aboriginal children were being 'procured', sometimes for money, among the settlers, and there are frequent references to Aboriginal girls around the age of eight being used by white stockmen as female companions. Older Aboriginal men were lending their younger wives to various stations in order to be able to draw on rations and supplies. They saw no distinction between missionaries and settlers, all were treated as local 'bosses' who made various demands in return for food.
Aboriginal people who left children at the mission for a period felt entitled in return to draw on the mission rations, whether or not they worked as required in cutting bark and other jobs the missionaries demanded of them, often promising to do so 'tomorrow'. They even cited the prayers to remind the missionaries of these reciprocal obligations: 'give us this day, all day, our daily bread: and forgive
When the government blankets arrived, Aboriginal people would turn up in large groups demanding to have them distributed, arguing that the government was sending these blankets for them, not for the missionaries. This presented a quandary, since in the first year 40 blankets arrived, in the second year 60, and the first group to arrive consisted of 30 people. Clearly there were not enough blankets to go around for a year, and some were always needed at the mission for the care of the sick and the children. Watson cut the blankets in half.
Infanticide
The missionary journals make some reference to the infanticide of new-born mixed-descent children, which appear entirely convincing, but may yet arise from misunderstanding and misinterpretation. In February 1834 Watson observed that 'it is a custom to hold their infants in smoke for a considerable time and to rub them over with the bark of a certain tree which is exceedingly Black', and that this may be the cause of the blisters he observed on the hands and feet of a sick two-week old baby.
A year earlier, unaware of this custom, he had described what appeared to him to be an attempted infanticide. The case referred to one of the two wives of Woowah (Blind Bobby), an older Aboriginal man who often camped near the mission. The young woman had denied being pregnant two days earlier, and one evening the two women were missing from the camp, having retreated to the bush on the pretext that the baby Charlotte was crying too much. Watson and his wife were suspicious and got two of the girls to lead them to the spot where the women were.
The episode sounds as if the young mother had tried to blacken the baby with smoke, was much concerned because it was white, and resigned herself to having to give it away.
The trials of bush life
Handt's diary is somewhat less colourful than Watson's regarding his interaction with indigenous people. He had trouble with Aboriginal and English names, so that his journal has generic entries referring to 'this boy' and 'that boy' for years, whereas Watson's journal refers to most of the Aborigines either by a Christianised name or a transliteration of an indigenous name.
But Handt relates an episode where he traveling through the bush, wearing an opossum cloak as usual, and accompanied by an assigned convict. A bushranger held them up demanding his money and weapons. The bushranger was incredulous when he found that Handt had neither, and then quizzed the assigned convict whether Handt was treating him decently. The convict had no complaints, and the bushranger, having run out of options to either rob or punish Handt, contended himself with some bread, sugar and a handkerchief. He let them go before Handt could launch fully into his missionary speech.
He often scolded Aboriginal people for hunting or fighting on a Sunday, or swearing at a dog, or swearing at all. He did not appear convinced that he was making an impact, noting much resistance to his gospel ('what you said about God is not true', 'you're telling stories'). On the whole however, there was an increasing curiosity among Aboriginal people about this God, who made everything, including all the commodities that the missionaries had ('the pipe, too?'), and who also loved them, so that presumably some of the things he had made must be destined for them, as well.
His wife's second confinement appeared to trouble Handt greatly. In mid-July 1834 he hurried to the nearest doctor at Murrumburgeri, 22 miles away, but the man refused to accompany him back to the mission, asking to send word when the date was closer. Handt then sent to Bathurst for a 'government woman'. The baby daughter was delivered three weeks later, on 13 August, leaving a 23-day gap in his diary entries.
Friction between Handt and Watson
There is very little reference in the missionaries' journals to each other. The journals were sent as quarterly accounts of their activities to the committee in Sydney, and the Brothers signed off on each other's journals. They were therefore not likely to raise overt criticism of each other in these journals. While Handt's journal reflects his limited confidence in the success of the mission, Watson detailed the 'evils' they were labouring against. The journals give the impression that they were acting in isolation from each other. Both conducted work amongst the Wiradjuri, but separately, using different phonetic conventions. It later transpired that they were barely on speaking terms.
At Moreton Bay (1837-1842)
In 1840 Watson was dismissed from Wellington Valley and the CMS requested that Handt return there, but he refused. The Pietist attitude instilled in Basel graduates reinforced their expectation that they must follow their calling, which took the form of a calling to a particular posting (Berufung). But Handt clearly had a more secular attitude to his postings, having left Sierra Leone, and Wellington Valley, and now refusing to return there.
At Sydney (1842-1854)
Mary Handt's fourth confinement in 1844 did claim her life, and Johann, now 51, raised their three children, Wilhelm, Sarah and Ambrosius, by himself. Sarah died in 1848.